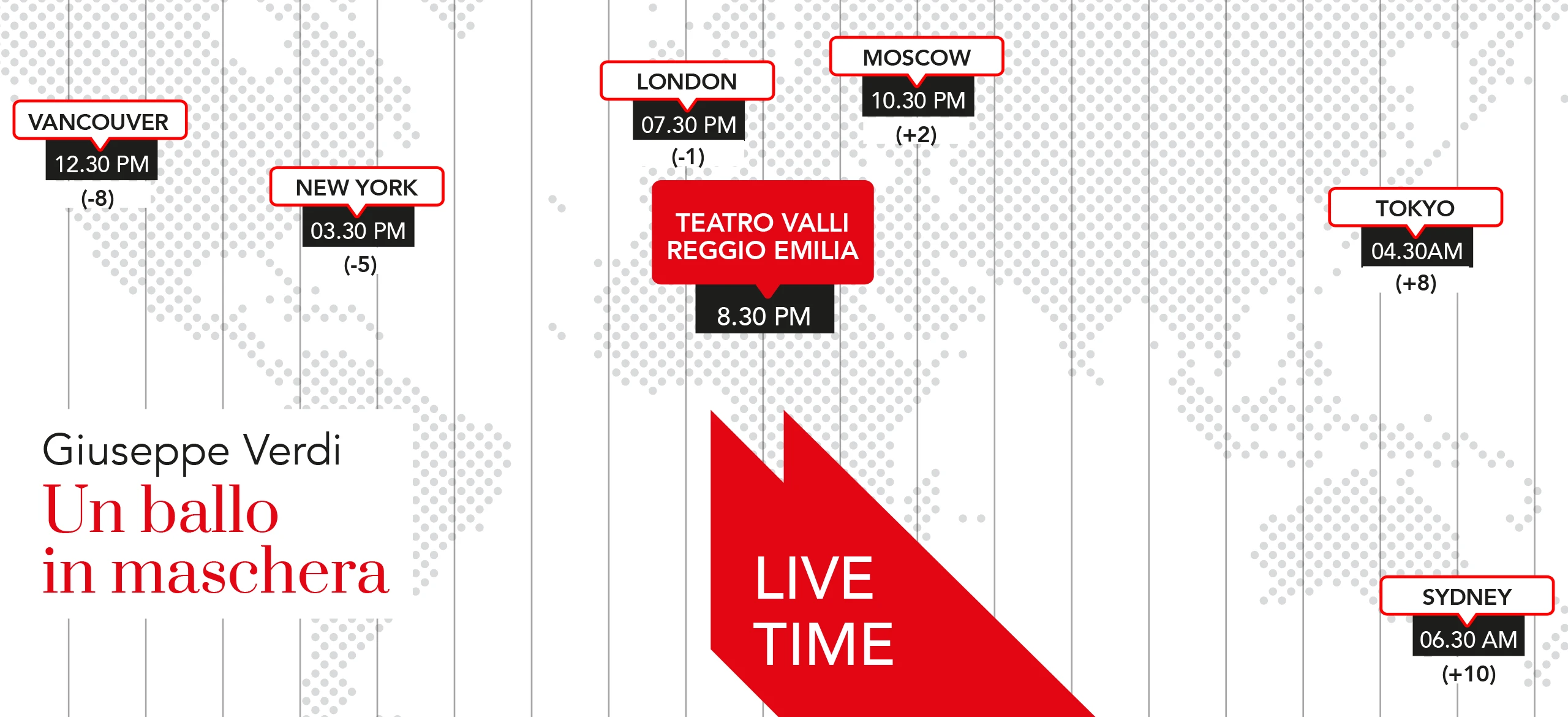 UN BALLO IN MASCHERA
Giuseppe Verdi
Melodrama in three acts
Libretto Antonio Somma
Music Giuseppe Verdi
Publisher Casa Ricordi, Milan
Riccardo Giorgio Berrugi
Renato Devid Cecconi
Amelia Daniela Schillaci / Clarissa Costanzo
Ulrica Alisa Kolosova
Oscar Lavinia Bini / Anna Maria Sarra
Silvano Chao Liu
Samuel Svetolik Belosliudov
Tom Gaetano Triscari
A Judge Paolo Leonardi
A Servant of Amelia Luca Favaron
Filarmonica di Parma
Coro Lirico di Modena
Voci bianche del Teatro Comunale di Modena
Conductor Alessandro D'Agostini
Director Massimo Gasparon
Assistant director Tony Contartese
Original sets and costumes Pierluigi Samaritani
Costume reworking by Massimo Gasparon
Lights Andrea Borelli
Choreographic movements curator Gino Potente
Choir master Giulia Manicardi
Master of the treble voices choir Paolo Gattolin
Dancers Agora Coaching Project
Curated by MM Contemporary Dance Company
Staging Fondazione Teatro Regio di Parma
Co-production Fondazione Teatro Comunale di Modena and Fondazione I Teatri di Reggio Emilia
"Un ballo in maschera" according to Massimo Mila, renowned critic and musicologist, is "Verdi's Tristan and Isolde." A sorceress predicts the betrayal and murder of the king at the hands of his best friend. But the regicide could not be portrayed and censorship raged, forcing an American setting (the protagonist, Richard, would end up being the Count of Boston).
Massimo Gasparon, starting from the historic 1989 Parma staging, creates a new dramaturgical perspective of the characters through an emotional and empathetic update that is not superficially merely aesthetic. He writes in his director's notes, "We could (…) call this a revival with notable new scenographic and dramaturgical elements, an important opportunity to rediscover modernity through style and tradition, where the new must arise from the classical core of the melodramatic tradition. My directorial approach starts from a deep search for an increasingly current sensibility. In addition, I gave a lot of importance to the esoteric and Luciferian component, which Verdi continually exalts: the number Three is continually pronounced and becomes a satanic mantra full of divinatory meanings."
"Un ballo in maschera," explains conductor Alessandro D'Agostini, "gathers within itself so much diversity of stylistic registers, orchestral colors, and depth of characters, that a reflection on the general modes of interpretation of this opera is necessary. (…) What is the result of this research? To tell the audience a story made up of human beings, of emotions and feelings common to each of us, alive and vibrant. To tell that each of us is a world, that each of us is capable of great deeds as well as great miseries."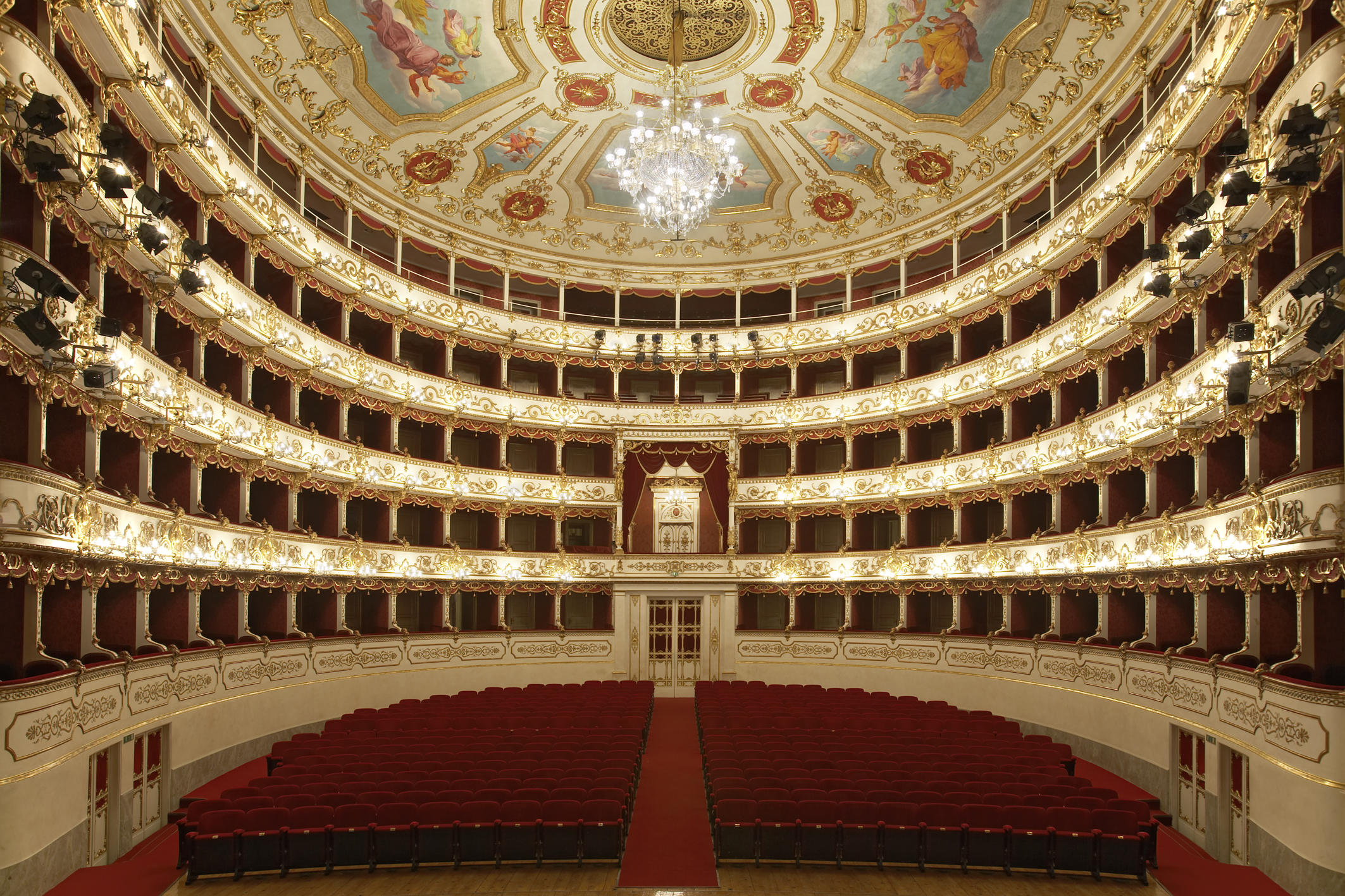 TEATRO VALLI DI REGGIO EMILIA

The majestic Teatro Valli complex, surrounded by the public gardens, characterizes the town centre. It covers an area of 3,890 square metres. It hosts prestigious opera and concert seasons, as well as a rich programme of ballet. It contains a library, an archive room and a historical record library, all open to the public. The complex was built between 1852 and 1857 according to a design by Modena architect Cesare Costa. The theatre has been repeatedly restored without changes in its original structure. In 1980 it was dedicated to Romolo Valli, a famous actor of Reggio Emilia.
La Bohème
Teatro Comunale di Modena
13 ottobre 2019 - ore 15.30
Turandot
Teatro Regio di Parma
19 gennaio 2020 - ore 15.30
Falstaff
Teatro Municipale di Piacenza
26 gennaio 2020 - ore 15.30
Cavalleria Rusticana e Pagliacci
Teatro Valli di Reggio Emilia
9 febbraio 2020 - ore 15.30
Lucrezia Borgia
Teatro Dante Alighieri di Ravenna
8 marzo 2020 - ore 15.30
L'Elisir d'Amore
Teatro Comunale di Bologna
10 aprile 2020 - ore 18.00
Madama Butterfly
Teatro Comunale di Ferrara
4 maggio 2020 - ore 20.00
OTHERNESS, FEAR AND DISCOVERY
Teatro Comunale di Modena
8 maggio 2020 - ore 20.00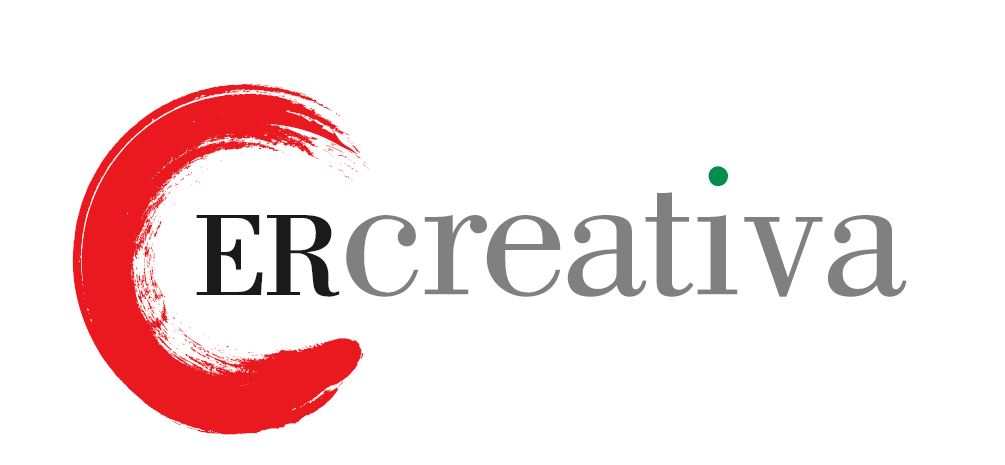 OperaStreaming
Coordinamento:
Fondazione Teatro Comunale di Modena
Via del Teatro 8 - 41121 Modena
P.IVA e CF 02757090366
info@teatrocomunalemodena.it
Tel. 059 - 2033020