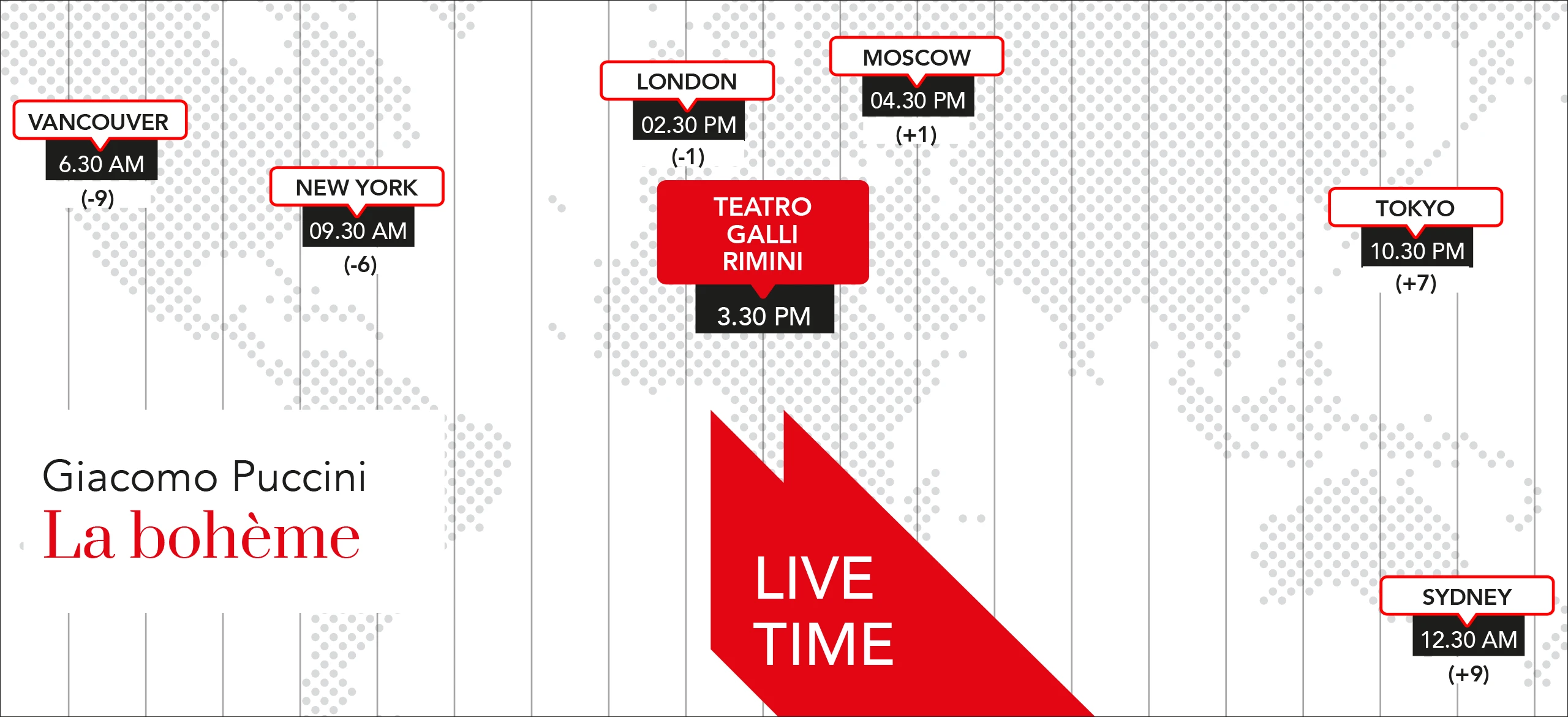 La bohème

GIACOMO PUCCINI
(from La vie de bohème di Henri Murger)
libretto Giuseppe Giacosa e Luigi Illica
Première, Torino, Teatro Regio, 1 febbraio 1896
(Critical edition F. Degrada. Casa Ricordi, Milano)
Mimì Juliana Grigoryan
Musetta Alessia Pintossi
Rodolfo Alessandro Scotto di Luzio
Marcello Christian Federici
Schaunard Clemente Antonio Daliotti
Colline Andrea Vittorio De Campo
Benoît Fabio Baruzzi
Alcindoro, Sergente dei doganieri Graziano Della Valle
Parpignol Ivan Merlo
conductor Nicola Paszkowski
stage direction and conception Cristina Mazzavillani Muti
light designer Vincent Longuemare
visual designer David Loom
video programmer Davide Broccoli
costumes by Manuela Monti
made by the Teatro Alighieri tailor's shop
Luigi Cherubini Youth Orchestra
Choir Municipal Theatre of Piacenza
choirmaster Corrado Casati
Ludus Vocalis Children's Voice Choir
conducted by Elisabetta Agostini
production Ravenna Festival-Teatro Alighieri Season 2015-2016
staging Ravenna Festival-Teatro Alighieri
in co-production with Teatro Galli of Rimini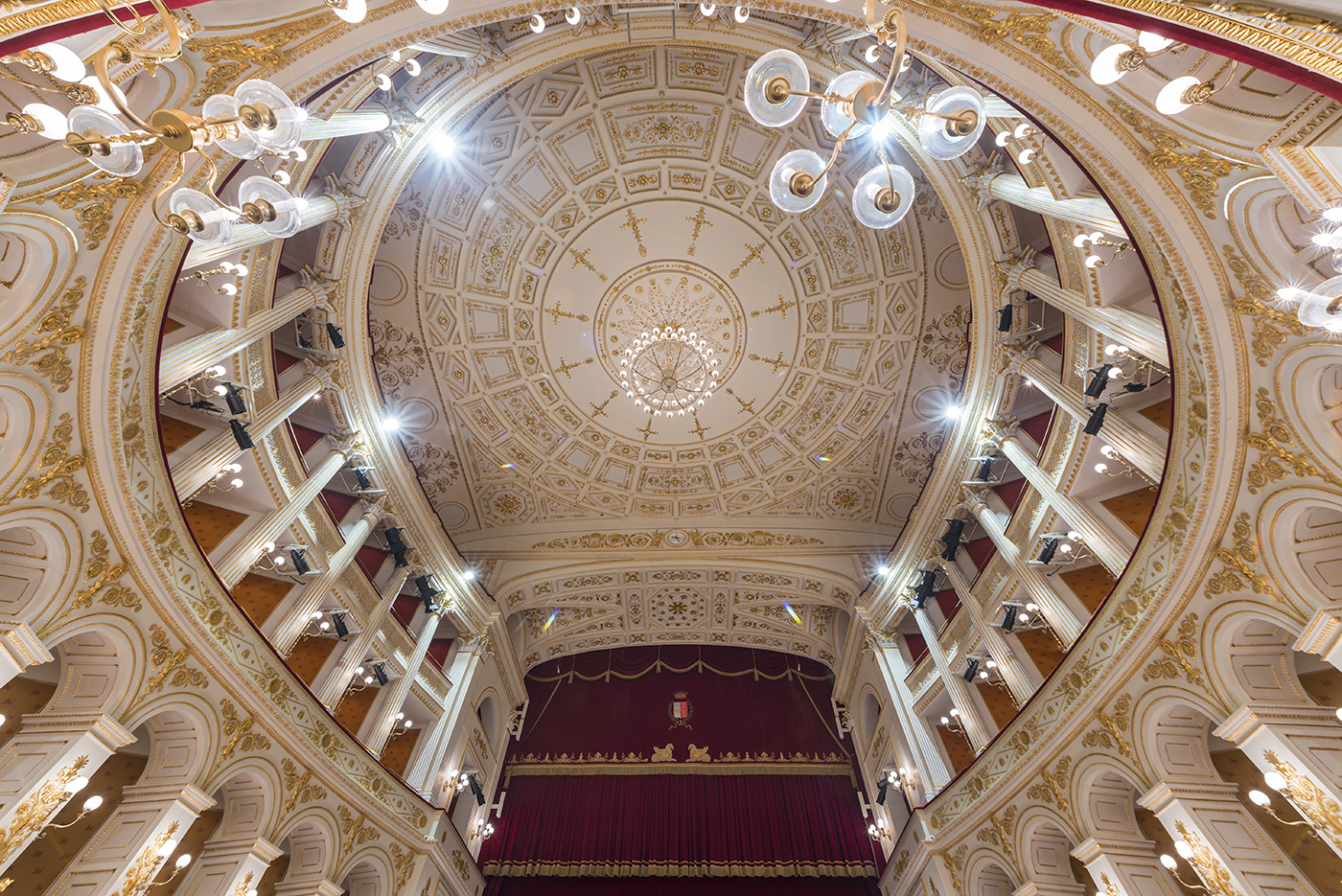 TEATRO GALLI DI RIMINI

Erected between 1843 and 1856 the Amintore Galli Theatre was inaugurated in 1857 with the first performance of Giuseppe Verdi's Aroldo. Its project and neoclassical style was signed by Luigi Poletti, an architect and engineer of the Papal States. Originally it was called "Teatro Nuovo" (the New Theatre) and it changed its name in 1859 to Teatro Vittorio Emanuele II. Only later, in 1947, it was dedicated to the composer Amintore Galli (1845-1919).
The theatre's activity was interrupted in 1943, when the building was severely destroyed by the Second World War bombings: the auditorium and the stage collapsed while the foyer was the only part that remained almost undamaged.
On 28th October 2018, after 75 years of silence, the theatre reopened to the public, welcomed by the amazing voice of Cecilia Bartoli, a world star of opera. The re-opening ceremony lasted three months, with special events like the stage performance of Giuseppe Verdi's Simon Boccanegra, conducted by Valerij Gergiev with the orchestra of St. Petersburg's Marinsky Theatre, and the show of Roberto Bolle, the world-famous dance artist, Roberto Bolle and Friends.
La Bohème
Teatro Comunale di Modena
13 ottobre 2019 - ore 15.30
Turandot
Teatro Regio di Parma
19 gennaio 2020 - ore 15.30
Falstaff
Teatro Municipale di Piacenza
26 gennaio 2020 - ore 15.30
Cavalleria Rusticana e Pagliacci
Teatro Valli di Reggio Emilia
9 febbraio 2020 - ore 15.30
Lucrezia Borgia
Teatro Dante Alighieri di Ravenna
8 marzo 2020 - ore 15.30
L'Elisir d'Amore
Teatro Comunale di Bologna
10 aprile 2020 - ore 18.00
Madama Butterfly
Teatro Comunale di Ferrara
4 maggio 2020 - ore 20.00
OTHERNESS, FEAR AND DISCOVERY
Teatro Comunale di Modena
8 maggio 2020 - ore 20.00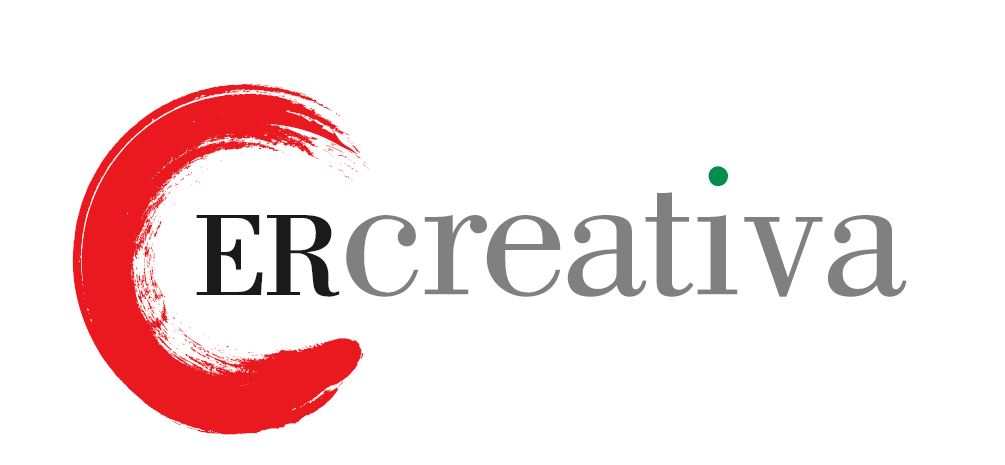 OperaStreaming
Coordinamento:
Fondazione Teatro Comunale di Modena
Via del Teatro 8 - 41121 Modena
P.IVA e CF 02757090366
info@teatrocomunalemodena.it
Tel. 059 - 2033020