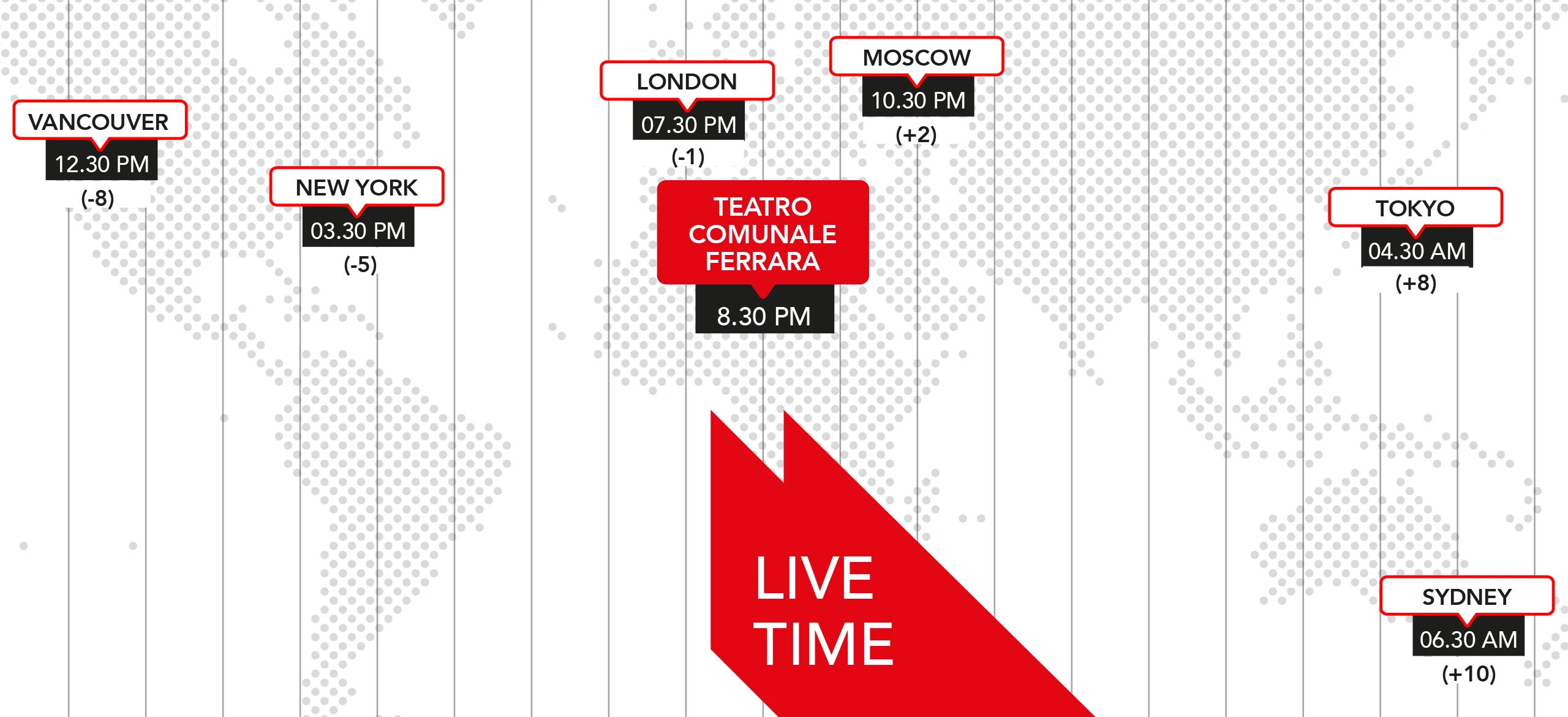 Le Nozze di Figaro

WOLFGANG AMADEUS MOZART

musical direction Leone Magiera
performers
Il Conte di Almaviva Guido Dazzini
La Contessa di Almaviva Marta Lazzaro
Susanna, promessa sposa di Figaro Gesua Gallifoco
Figaro Giovanni Luca Failla
Cherubino Nicolò Balducci
Marcellina Alessandra Adorno
Bartolo e Antonio Gianluca Convertino
Basilio e Don Curzio Lorenzo Martelli
Barbarina, figlia di Antonio Silvia Caliò
Orchestra City of Ferrara
conductor Massimo Raccanelli
Choir of the Municipal Theatre of Ferrara
choir director
Maria Teresa Auletta
director Adrian Schvarzstein
assistant director Jūratė Širvytė-Rukštelė
costumes Lilli Hartmann
scenes Lilli Hartmann
lighting Marco Cazzola production Teatro Comunale di Ferrara
A new production of Le nozze di Figaro, directed by Adrian Schvarzstein, assistant director and choreographer Jūratė Širvytė-Rukštelė, costumes and sets by Lilli Hartmann and lighting design by Marco Cazzola, goes on stage.
The chosen setting is that of the miserable Roman suburbs of the 1960s. As in Ettore Scola's masterpiece Brutti, sporchi e cattivi, "the characters in this play," explains director Schvarzstein, "mingle in a continuous back-and-forth of events that are the result of social tension, fail to fulfill themselves and want to involve others in their failure. The Spanish-Argentinean director takes Beaumarchais' provocations and brings them to the stage: the Mozart opera thus becomes an opportunity to "smile at conventions, and especially at the different social classes that today, effectively, make no sense."
Conducting the opera is Massimo Raccanelli (currently artistic director of the Filarmonia Veneta). Leone Magiera, discoverer of such talents as Luciano Pavarotti and Mirella Freni, continues for this production the "scouting" work he undertook with the previous Don Giovanni (in which he selected talented under-35s from among more than 300 young singers from all over the world). For Le nozze di Figaro he selected and prepared a vocal cast composed of Guido Dazzini (Conte), Giovanni Luca Failla (Figaro), Marta Lazzaro (Contessa), Gesua Gallifoco (Susanna), Silvia Caliò (Barbarina), Alessandra Adorno (Marcellina), Nicolò Balducci (Cherubino), Gianluca Convertino (Antonio and Bartolo), and Lorenzo Martelli (Don Basilio and Don Curzio). Starting June 12 they have been in Ferrara for a masterclass, conducted by Magiera himself, dedicated to them in preparation for their debut.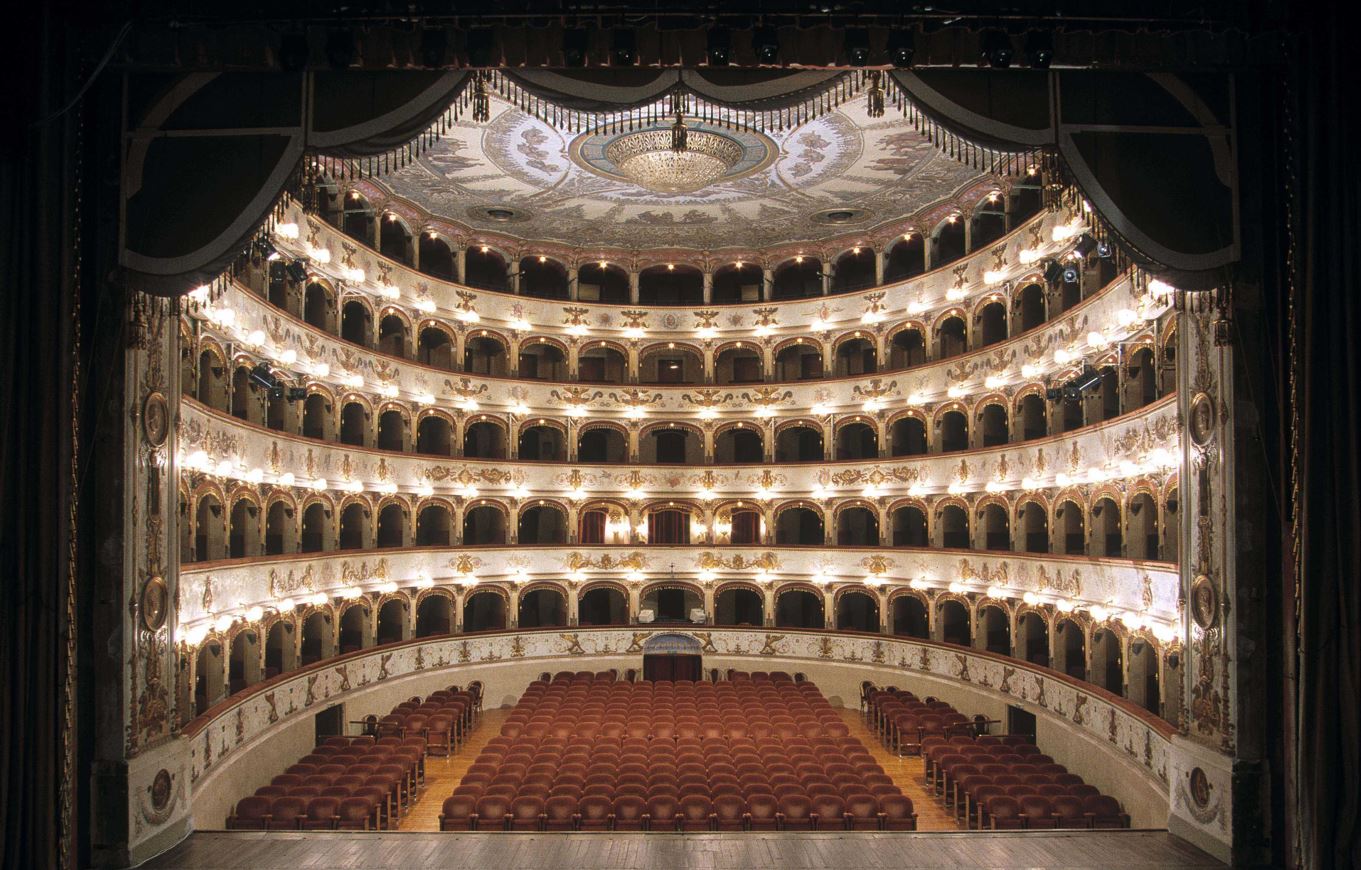 TEATRO COMUNALE, FERRARA

Recently dedicated to the great conductor Claudio Abbado, the history of the Teatro Comunale di Ferrara dates back to 1790 under the direction of the architect Giuseppe Campana. Direction of the theatre's construction then passed to the architect Antonio Foschini and then to Cosimo Morelli. The theatre was completed in 1797 and despite the assortment of architects, remains very unified in style, fitting well into the surrounding urban fabric among the pre-existing architecture like the Castello and the Church of San Carlo. The front of the building is a key component of the city's life.
La Bohème
Teatro Comunale di Modena
13 ottobre 2019 - ore 15.30
Turandot
Teatro Regio di Parma
19 gennaio 2020 - ore 15.30
Falstaff
Teatro Municipale di Piacenza
26 gennaio 2020 - ore 15.30
Cavalleria Rusticana e Pagliacci
Teatro Valli di Reggio Emilia
9 febbraio 2020 - ore 15.30
Lucrezia Borgia
Teatro Dante Alighieri di Ravenna
8 marzo 2020 - ore 15.30
L'Elisir d'Amore
Teatro Comunale di Bologna
10 aprile 2020 - ore 18.00
Madama Butterfly
Teatro Comunale di Ferrara
4 maggio 2020 - ore 20.00
OTHERNESS, FEAR AND DISCOVERY
Teatro Comunale di Modena
8 maggio 2020 - ore 20.00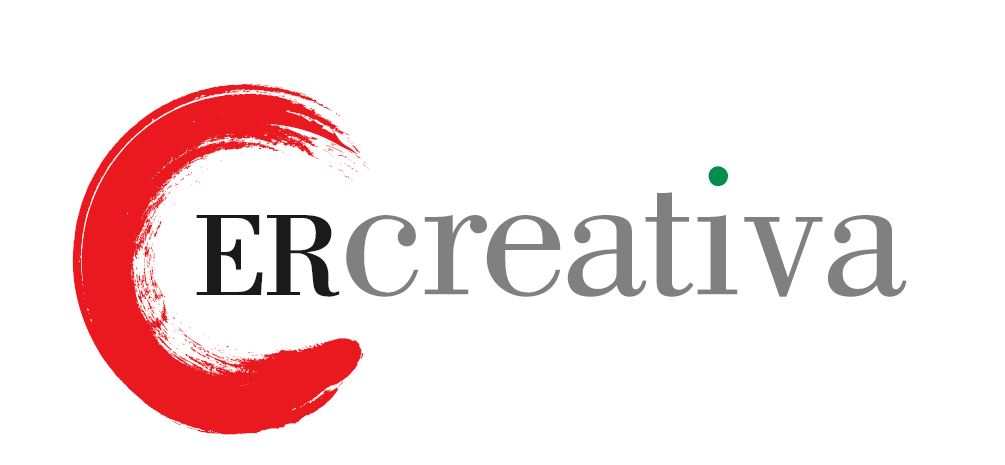 OperaStreaming
Coordinamento:
Fondazione Teatro Comunale di Modena
Via del Teatro 8 - 41121 Modena
P.IVA e CF 02757090366
info@teatrocomunalemodena.it
Tel. 059 - 2033020